Nissan CVT Transmission Pan Bolt Torque: Proper Torque Spec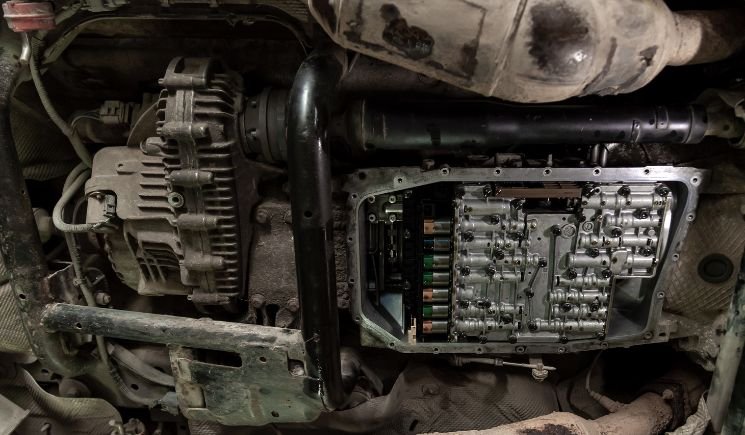 When servicing the transmission pan on a Nissan CVT, tightening the pan bolts and drain plug to the manufacturer's factory torque spec is crucial. Under-torquing the CVT transmission pan hardware can lead to leaks while over-tightening can crack the pan. Most service manuals list the torque as "Tighten to specification," making the exact values hard to track. In this article, we've researched Nissan models to provide the prescribed torque specs for the CVT pan bolts and drain plug.
Having the proper torque reference helps you avoid mistakes when installing the transmission pan that could lead to more significant problems. We'll also cover best practices on torquing procedures, using thread sealant, and determining if pan bolts are reusable or need replacements. 
Table of Contents
Covering Proper Nissan CVT Transmission Pan Bolt Torque And Steps You Should Take
Consult service manual
Official Nissan service manuals provide the exact transmission pan bolt torque values, usually around 89 in-lbs to 106 in-lbs.
Careful of overtightening
CVT transmission pans are aluminum and prone to cracking if pan bolts are grossly over-torqued, therefore, it is vital to stick to specs.
Evenly torque in sequence
Tighten bolts incrementally in the specified crisscross sequence to evenly draw down the pan without distortion.
Check for torque wrench calibration
Accurate torque wrenches out of calibration can lead to correct torque application, therefore, it is best to confirm calibration before working on it.
Inspect thread condition
Severely corroded or damaged pan bolt threads may require replacement bolts for proper clamping force at the specified torque.
Apply thread sealant
Use a small amount of OEM-recommended sealant on pan bolt threads to prevent leaks and ensure consistent friction values.
Recheck torque after the initial drive
Rechecking bolt torque values after a brief initial drive can be beneficial to counteract any potential settlings.
Refrain from using copper washers
The CVT drain plug utilizes a copper crush washer for sealing that must be replaced each service.
Here Are Some Researched Torque Specifications For Nissan CVT Transmission Pan Bolts And Drain Plug
Nissan Altima
89 in-lbs for pan bolts and 33 ft-lbs for drain plug with new copper washer
Nissan Maxima
89 in-lbs to 106 in-lbs range for pan bolts depending on model year and 33 ft-lbs for drain plug
Nissan Sentra
89 in-lbs for pan bolts and 29-36 ft-lbs for drain plug per service manual
Nissan Rogue
92 in-lbs for the 12 pan bolts and 36 ft-lbs for the drain plug with the new crush washer
Nissan Murano
89 in-lbs to 106 in-lbs specified for pan bolts and 36 ft-lbs for drain plug
Nissan Pathfinder
Trans pan bolts are listed as 89 in-lbs and drain plug torque of 33 ft-lbs
Nissan Frontier/Xterra
The service manual specifies 106 in-lbs for pan bolts and 36 ft-lbs for drain plugs.
Nissan Titan
CVT pan bolts torqued to 106 in-lbs, and the drain plug tightened to 33 ft-lbs
Infiniti QX60
Has 89 in-lbs pan bolt torque and 33 ft-lb spec for drain plug
Frequently Asked Questions About Nissan CVT Transmission Pan Bolt Torque
Q: Can I reuse the old CVT pan bolts, or do I need new ones?
A: Reusing undamaged bolts with good threads is usually fine, but many opt for fresh bolts during servicing for peace of mind on the road.
Q: Is thread sealant required on CVT transmission pan bolts?
A: It is not a must, but sealant is recommended to prevent leaks, usually a tiny amount of Nissan-approved FKM liquid gasket or anaerobic sealant.
Q: How urgent is re-torquing the pan bolts after initial driving?
A: It's beneficial for precaution but not critical. The initial torque is most important as long as it is done correctly.